Computerized:
Computerized
Certification:
CE, ISO9001:2008, GMP, QS, UL
Transport Package:
Wooden Case
Specification:
L*W*H: 1.55*0.93*2.45m
each size hydraulic small injection moulding machine for handle price
 
Product Application
Vertical injection machine have the advantage of low noise, low energy consumption,high efficiency and
long life time, it's widely apply to produce various terminal blocks, household appliances, consumer
electronics, power tools, automotive dashboards, medical devices, open containers, connectors, cables,
auto parts, Plug ,etc.
 
| | | | | | |
| --- | --- | --- | --- | --- | --- |
| MODEL | JY-250ST | JY-350ST | JY-500ST | JY-850ST | JY-1000ST |
| Screw Diameter | 30mm | 35mm | 42mm | 48mm | 48mm |
| Max.Shot Weight | 74g | 106g | 176g | 227g | 260g |
| Clamping Force | 35Tons | 45Tons | 55Tons | 85Tons | 120Tons |
| Opening troke | 180mm | 200mm | 200mm | 255mm | 300mm |
| Ejector Force | 1.3Tons | 1.76Tons | 1.76Tons | 2.1Tons | 4.8Tons |
| Ejector Stoke | 35mm | 35mm | 35mm | 45mm | 45mm |
| Oil Resservoir Capacity  | 100L | 130L | 150L  | 180L | 200L  |
| Pump Motor Power | 3.75KW/5.5HP | 5.5KW/7.5HP | 7.5KW/10HP | 11KW/15Hp | 14.5KW/22HP |
| Power | 6.3KW | 9KW | 12KW | 16KW | 20KW |
| Machine Weight | 1.5Tons | 2.4Tons | 3.0Tons | 5Tons | 6.8Tons |
| Machine Dimensions(LxWxH) | 1.55x0.93x2.45m | 1.7x1.2x3.0m | 1.85x1.2x3.0m | 2.0x1.3x3.2m | 2.0x1.4x4.1m |
| Shipping Weight | 1.8Tons | 2.7Tons | 3.4Tons | 5.4Tons | 7.2Tons |
| Shipping Measurment(LxWxH) | 1.76x1.15x2.3m | 1.92x1.3x2.3m | 2.1x1.4x2.3m | 2.2x1.4x2.5m | 2.2x1.6x2.8m |
 
Main Features
1) Straight screw ejected assembly.
2) Two(three)-phase temperature, ejected speed, backing pressure and screw speed is suitable for various
plastic to confectioned.
3) Low-die fixed top active mode makes inserted objects excellent positioned features and the machine has
liftout attachment for finished goods.
4) Low-pressure closed die assembly can protect the safety of die.
5) Material tube can be lifted. It is easy to clean stub bar. It is easy to fix die.
6) Can be installed a single mold or double shuttle table.

Details photos: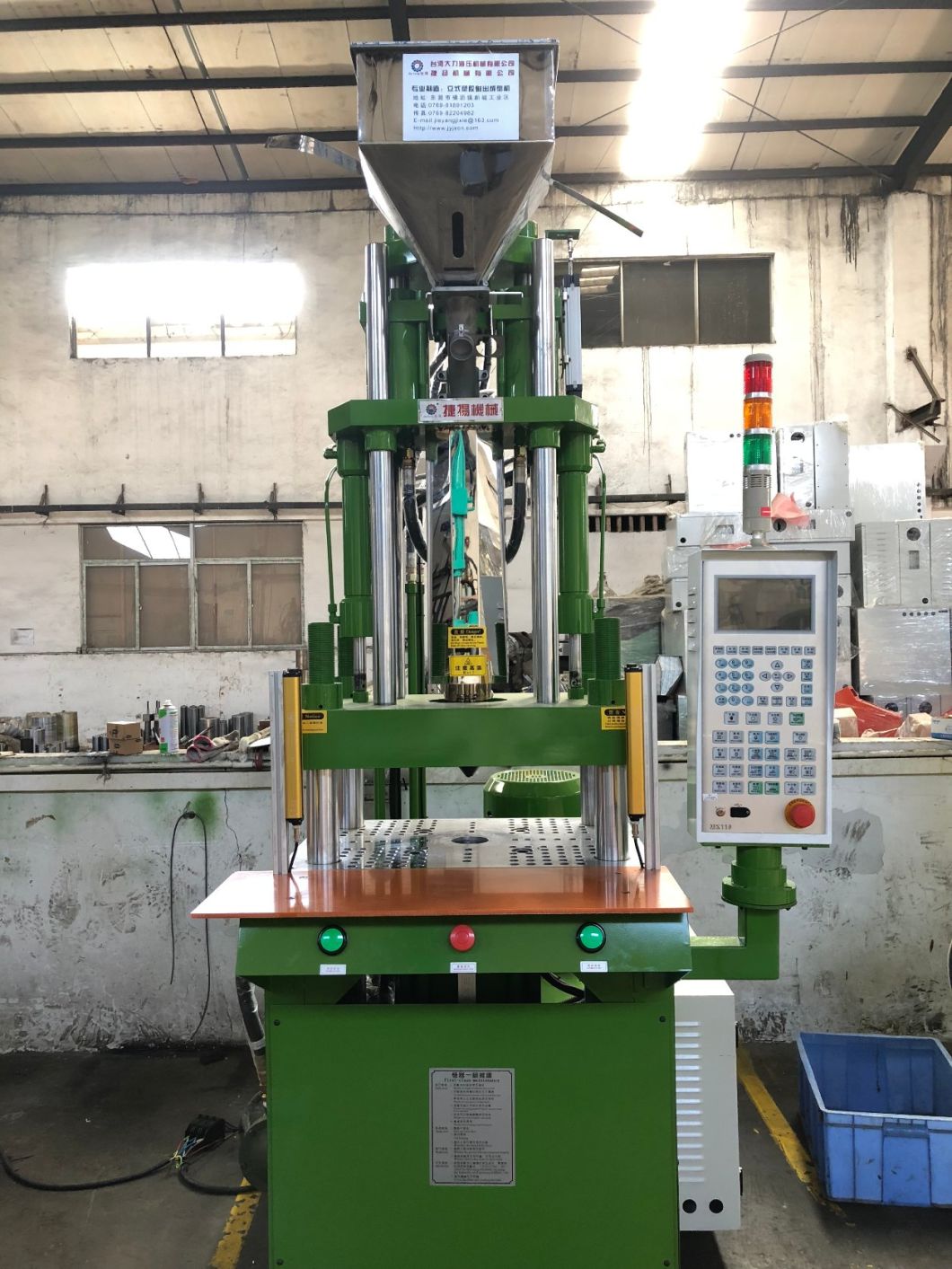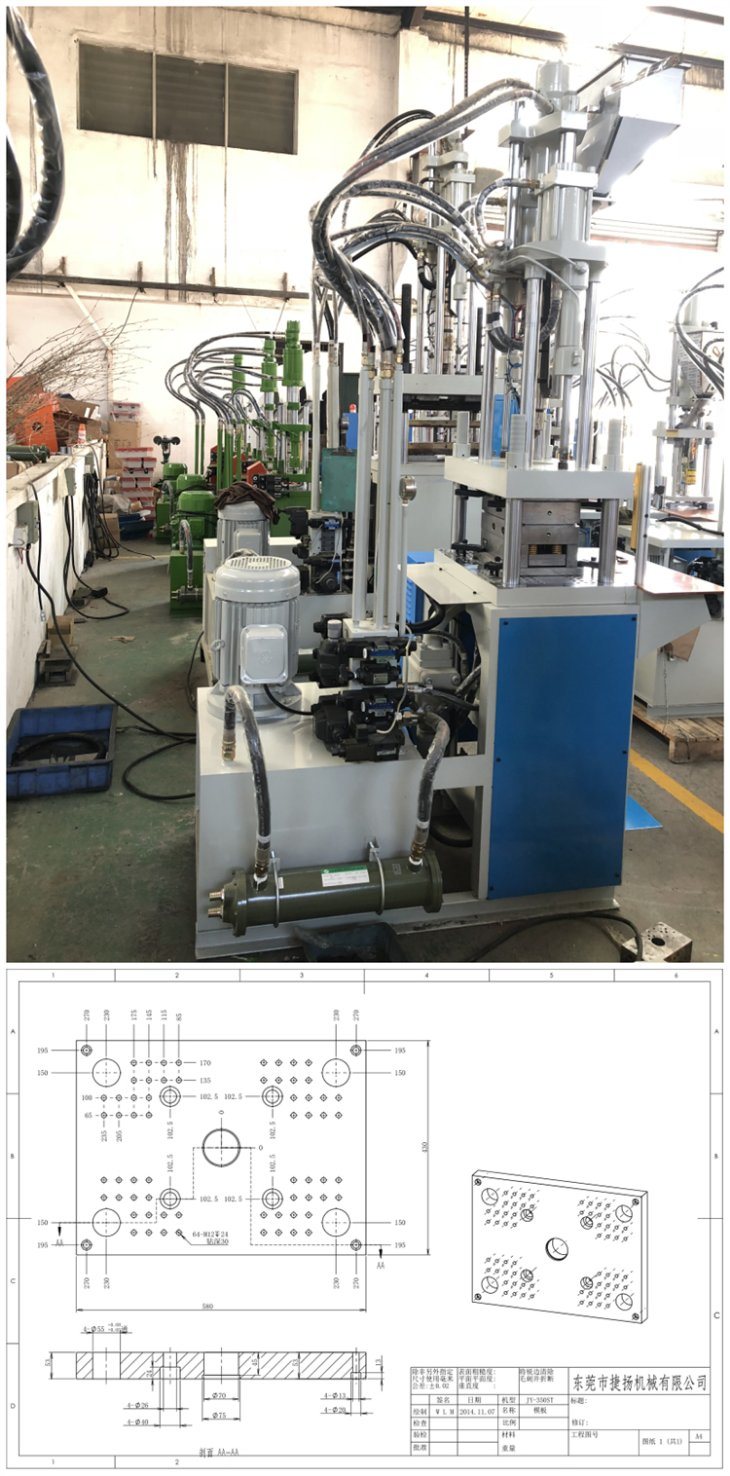 Machine Main Products: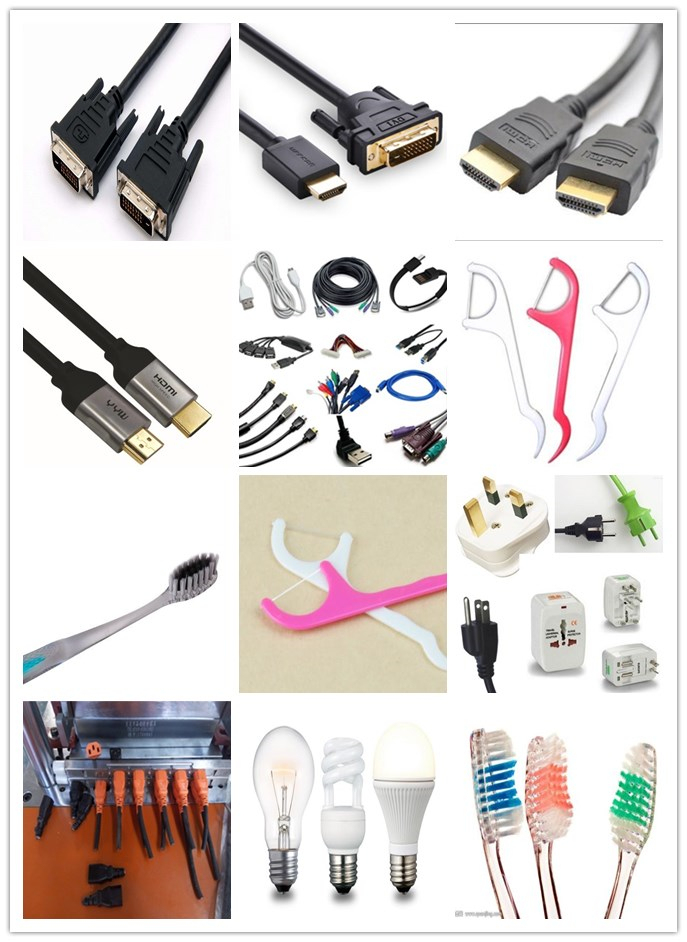 Youtube Vedio:
European Plug:https://youtu.be/xtM1aSLv9uw

South Africa Plug:https://youtu.be/4TSYylWwO7M

USB Cable:https://youtu.be/rReF6ysrMvE https://youtu.be/pDyWrFNPxjI

Mac wire: https://youtu.be/rReF6ysrMvE

DC wire:https://youtu.be/t5V6N71EQcQ

Network wire:https://youtu.be/iuxdJ8pjqh0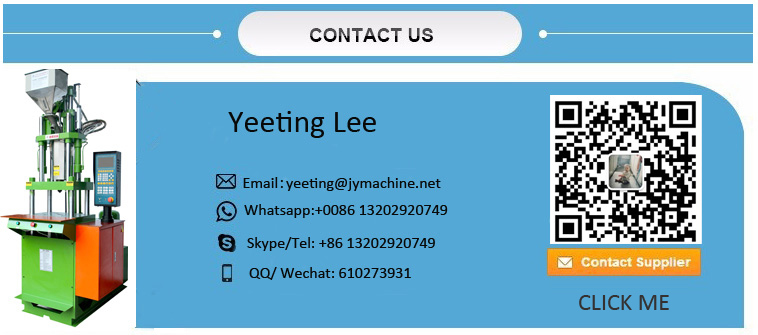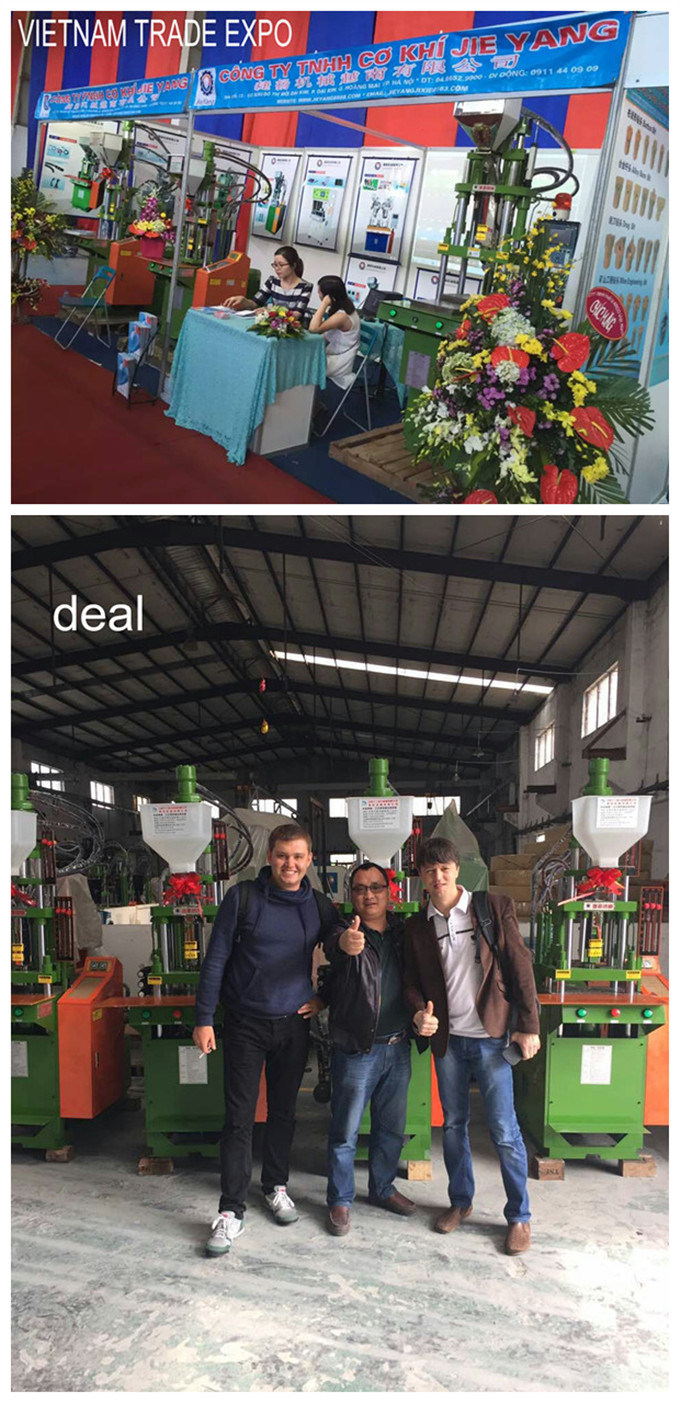 Q1: Are you a trading company or a manufacturer?
A1: Factory we are, all the machine are made by ourselves. Besides, you can get the customize service with your requirements
Q2: What's your warranty for the machine?
A2: One Year Warranty(all the machine parts can be replaced within one year free of charge, not including the manmade broke), life-time maintenance.
Q3: What's your Delivery Time?
A3: Usually it is 3-5 days if the machine is in stock; If not, the delivery time is 10-25 days according to your required quantity and our busy season.
Q4: Where is your factory? How can visit you?
A4: Our factory is next to Guangzhou and Shenzhen. We will drive you to our factory by car when you arrive at Dongguan or Changping Railway(Bus) station.
Q5: Why choose Jieyang  Machinery Co., Ltd.?
A5: "Customer Satisfaction, Continual Improvement &Â Innovative Service" are the driving force for our company to moving forwards. We will devote every efforts to do the best level machine and service.
Welcome to inquiry us !
 
SUVs are characterized by strong power, off-road performance, spaciousness and comfort, and good cargo and passenger carrying functions. It is also said that SUVs are the comfort of luxury Cars and the nature of off-road vehicles. SUV is a mixed descendant of cars and off-road vehicles. Compared with its ancestors, SUVs are even more powerful.
The biggest feature of off-road vehicles is that they have strong passing ability and a certain cargo capacity, but the sportiness and comfort are not outstanding; and after these deficiencies of off-road vehicles are strengthened, they can be called SUVs. It not only has the function of off-road vehicle, but also can drive in the city, without losing the style, the popular point is the off-road vehicle that can be driven in the city. SUV, as the preferred model of urban emerging car buyers, has become the main force in the growth of the automobile market in recent years. Although the development of SUV has gone through several stages of ups and downs, as an important force in the automotive market, the SUV market has not yet fully competed. Whether it is from the product itself or the manufacturer`s market development, the market capacity is far from reaching its limit. There is a lot of room for improvement.
For a long time, the domestic SUV market has always been divided into joint-venture brands and independent brands. There are separate markets between the two. While independent-brand SUV manufacturers are developing rapidly, competitive pressure has become prominent. Major international automakers are fighting fiercely in the Chinese market, with new models being continuously launched, and car prices being continuously lowered, resulting in fierce competition.
The SUV's performance is relatively good, whether in the front row or the back row, you can sit comfortably in the car. The wrapping and support of the front seats are in place, and there are more storage compartments in the car, which is convenient for daily use. The SUV boom first spread from the United States, not only in Europe and the United States, but also in Asia, Japan and South Korea. Automakers have also begun to develop SUV models. Affected by the trend of recreational vehicles, the high space performance and off-road capability of SUVs have replaced station wagons as the main types of leisure travel. SUV became the most popular car model at the time.
According to the functionality of SUVs, they are usually divided into urban and off-road types. Current SUVs generally refer to those models that are based on a car platform and have the comfort of a car to a certain extent, but also have a certain off-road. Due to the multi-combination function of the MPV seat, the application range is wide. The price of SUV is very wide, and the commonness on the road is second only to sedan.

SUV
Zhengzhou Dongfeng Mid-south Enterprise Co., Ltd. , https://www.cn-dfmtruck.com