Editor's note:
After more than ten years of rapid development, China's agricultural machinery market has entered an adjustment period. The specific performance has been a sharp decline in the traditional products such as tractors and harvesters. This has not only affected the performance of the old agricultural giants, but also affected some of the original plans to cross the border. Enter the capital of the agricultural machinery industry.
In contrast, in some previously unknown areas of niche, due to policies and the two-wheel drive of the market, market highlights were frequent, and some domestic and foreign stars quickly became famous and became green in the industry.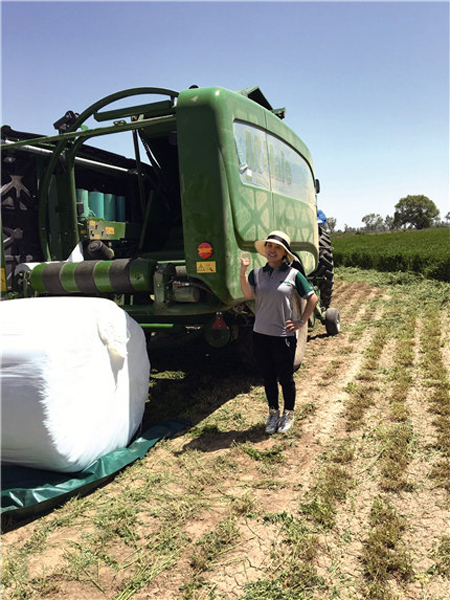 McHale machine works in the field

In recent years, with the bundling machine sales market continuing to heat up, the reputation and popularity of McHale, a brand from Ireland, has continued to rise, becoming a dark horse in the baler market. Ms Qin Hui, the chief representative of the company in China, recently expressed her opinions on product advantages and market feedback in Beijing.

Because of the focus so professional
McHale is a family business founded by the brothers Padraic and Martin McHale. During the past 30 years, the company has focused on the development and production of a series of round balers, round bale wrapping machines, and round bales and square bale wrappers for silage, hay and straw operations.
Because of its specialization, McHale has taken a leading position in the global pasture equipment industry. More than 90% of its output is exported to 55 countries. Its products are distributed throughout Europe, North America and South America, Australia, New Zealand and other major pasture production areas, as well as crop varieties. Diversified China, Japan, South Korea and Africa have conquered various complex terrain conditions and difficult operating environments.
Since 2015, McHale products have been introduced into China. Although its main product, the big round baler and bale wrapping machine, has long been sold in other countries, the two companies that initially entered China were not eager to put it in large numbers. Instead, they tried according to geography, climate, and different crops. Chinese market demand improves performance.
"This year, our products are widely spread in China. At present, more than 50 machines have been put into first-line operations." Qin Hao said that the McHale round bale wrapping machine has a patented round bale delivery technology. The product uses the lower half of the baling chamber as a bale conveying mechanism. The baled bales are pushed onto the wrapping platform and the wrapping operation is continued. The advantages are compact and flexible body; stable and fast transmission even on steep slopes; reduced unnecessary transmission parts and electronic monitoring systems, reduced failure rate and maintenance costs.
In addition, vertical wrap rings are more efficient, more stable, and have lower failure rates than horizontal wraps. 20 seconds can be wrapped 4 layers, 30 seconds can be wrapped 6 layers. The equipment is equipped with a membrane disconnection sensor. Once the membrane on any one of the tensioners breaks or is depleted, the machine automatically switches to the single tensioner operating mode and completes the pre-set number of layers.
According to Qin Hao, efficiency and reliability are the biggest features of the machine. From the pick-up --- chopping --- baling --- wrapped film (fermentation) takes only 2 minutes, a machine can produce finished silage, ready to be fed after one month. Silage bales have an average weight of 800-900 kg.
With the continuous development of animal husbandry and aquaculture industries, the cumulative subsidies for straw-related products have been increasing. The baler products in livestock and animal husbandry machinery products have continued to sell well in the past two years. 90% of Ireland's agricultural land is forage. McHale has 30 years of experience in the development and production of pasture equipment, and specializes in the manufacture of balers, wrappers, and baling machines, and has ten in Japan and South Korea. The practical experience of straw baling and wrapping in the remaining years has taken a place in the global baler market.
Good reputation shows strong power
Qin Hao told the writer about the visits to users. When Liu master of Jilin once came to grab the farmer, he had already arrived at the work mode of two shifts. The whole uncut corn stalk was buried under snow, and the night temperature was close to minus 30 degrees. The McHale F5500 large round baler has been continuously operating for four months under such circumstances, and 20,000 round bales with a diameter of 1.25 meters have been pressed out. Master Liu was amazed at his feats.
"I couldn't believe I couldn't believe that I had played so many bundles in months. This machine was too sturdy. In addition to normal sharpening, oil and butter, I didn't stop." Master Liu said, he recovered that year. Cost, "We have a good national policy. I will buy a few more and try to make more money."
"Before and after the purchase of eight brands of big round baler, only McHale can't pick faults." Chen Lidong, chairman of Chifeng Yuanyi Biomass Technology Co., Ltd., praised. Chen Lidong has a great plan — to build 8 large and medium-sized biogas projects by the end of 2018, each of which will handle 2,000 tons of straw annually. In order to meet the stable operation of biogas plants, it is necessary to have stable and reliable machines to ensure the supply of high-quality, adequate quantities of straw.
To this end, Chen Lidong spent a lot of money to purchase 8 domestic and foreign brands of balers for testing and data comparison. "The results are obvious. McHale's F5500 score is the highest from several data such as feed integrity, chopped length, bale density, bale weight, and maintenance cost." Chen Lidong pointed to a round baling machine ahead. "Looking at the import machine, it was only used for one season and it was going to be overhauled. McHale did not experience any failure."
"The reason why the F5000 series round balers are favored is reflected in every detail of it." Qin Hao said that there are three models of the F5000 series round baler, the biggest advantage is that the hydraulic type quickly and effectively lifts the card, automatic Lubrication system, efficient bundling, fully automatic control system etc. in 90 seconds. McHale builds rugged and reliable machines that use top-of-the-line configurations regardless of cost.
In addition to the amount of steel used, which is 25% more than required, all core parts, such as the German walterscheid brand of driveshafts, four-star double row rotors for the pick-up table, 50mm double row bearings for the main bearing points, and the baling room drive The chain specification is 20B, and the rotor chain is a 16B double-row chain. Such a configuration is rarely comparable to other brands. This has made McHale reliable, durable and able to resist any extreme operating environment, which greatly saves maintenance time and costs.
Not only does McHale's round baler perform outstandingly in straw operations, its bale wrapping machine, which is mainly used for forage storage operations, is highly recognized for its patented technology. "With so many machines, only the bundles made by McHale are not deformed!" sighed Qinggang County users.
Leymus chinensis is a kind of wild pasture unique to China and is used to feed sheep and cattle. Due to the fact that it is mostly wild and the cost is low, there are not a few storage and storage teams. However, the pasture is hard and rough in the harvest season, and the harvested ground is as hard as fine bamboo, which is a great challenge to the machine. McHale currently has a total of five F5500 round balers operating Leymus Chinensis in the Northeast, with an average of more than 5,000 bales per unit. The average speed of 90 seconds to complete picking, chopping to bale the whole process, the bale weighs 330 kilograms.
"To get the horse running fast, we must give the horse good grass." Master Zhao, who is located in Qinggang County, Daqing, shared many years of driving experience. He said: "He has been playing Leymus chinensis all these years. The greatest feeling he has received from the McHale machine is High efficiency and good density. L. chinensis is harder, even if it is shredded, it is difficult to compact the grass if the machine is not strong enough. "After the Leymus chinensis, it was the season to fight rice and corn stalks. This machine can also hit the reeds. I can't stay in the second half of the year and I can't help myself." (Dr. Chen Dongdong)
Related Developments: Agricultural Machinery Balers Machinery
So what is laser engraving? The term [laser" is an acronym for Light Amplification by Stimulated Emission of Radiation. Basically a beam of light is reflected through a series of mirrors, that points the beam downward through a focus lens which is designed to concentrate the light into heat at an exact point. That point where the laser touches the surface is called the [focal point" and is where the heat is most intense. This focal point is less than a millimeter in size, however the diffraction of heat upon contact with the surface usually equates to roughly 1/200" in actual cutting accuracy. We produce CNC Router machines for many years. How does laser engraving drifter from traditional printing? When you print something traditionally you add ink to paper. This is the opposite. We use the laser to remove material and what is normally [printed" will be cut away from your card with visible depth and texture. By varying the intensity of the beam, we can engrave at different depths, or even cut all the way through the material for a unique edge or die cut look. Another great thing about this process is that it does not involve any bits, blades, ink, or other components that need to be replaced, which allows us to ensure that each and every card is consistent in it`s look and end quality. We also offer full color UV printing which can also be done with laser engraving for a unique pairing.

Laser Engraver,Cnc Laser Engraver,Laser Cutter Engraver,Metal Laser Engraver
JINAN XUANLIN MACHINERY CO., LTD. , https://www.cncfiberlaser.com